Overview
To resurface a bath takes around 4 hours on the first day, and around an hour on the second day to finish it off. The bath is then back in use within 24 hours after the second day, so 48 hours from start to finish.
The second day return is very important, no other companies will do this, but it is essential to smooth out any drying imperfections which then leaves the bath with a true enamel finish.
You will get a top class job, and after 31 years of seeing other companies jobs, I sincerely believe I will leave you with the best finish in the industry (like a bath in a showroom).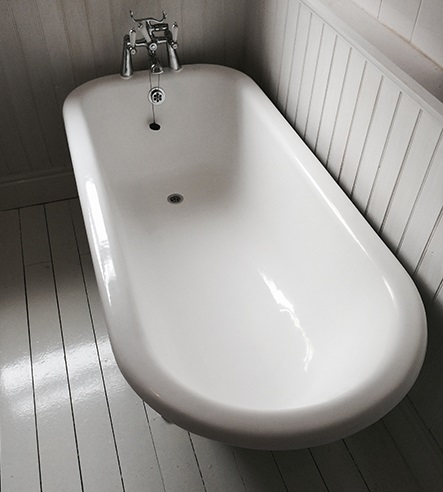 No mess. No plumbing disturbance. No inconvenience
Because I work in peoples homes every day of the week, I take a lot of care and attention masking off and covering things over so there is no mess whatsoever. 9 out of 10 baths are resurfaced with all the taps and fittings in place, so there is no plumbing disturbance or inconvenience.
This is the kind of job you only want doing once Get it done properly the first time.
Chip Repairs
I also specialise in doing on site repairs to steel or cast iron baths. I can do invisible repairs, this takes around an hour to do and the bath is back in use on the same day.
Guarantees
All work is fully guaranteed. Because of the faith I have in the high performance coatings I import in from the States, I expect your new surface to last many many years if you look after it with the simple after care instructions that I will leave with you.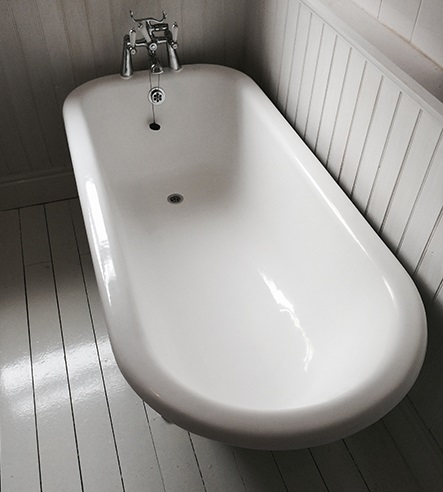 Commercial Works
I am small enough to care, but big enough to cope. I am an expert at setting up work in the commercial field. I can call upon a network of specialists in the Midlands as well as nationwide to do jobs for hotels, hospitals, local authorities and much more. I have undertaken works of 90 baths in one hotel to single baths in stately homes. Belvoir Castle, Rockingham Castle, Holdenby House, Stanford Hall are just some of the grand properties I have re-enamelled baths in.
No job is too big or too small
Every job receives my full attention to detail. I specialise in doing invisible chip repairs for baths in the hotel industry. Also, many building companies and tilers use my services at their snagging stage of a job to remove scratches and repair surface chips.
Cast Iron Baths
Most cast iron baths are as old as the house they are in. Some can be a big job to remove. Not only is plumbing disturbed and rearranged, you could end up loosening one tile which in turn loosens them all and then you have to re plaster the walls. This is why most people today keep their old baths. Not only are they deeper than new ones, but also in most cases they are longer as well.
Some plastic baths today are paper thin and crack and split, where as the old cast iron baths are solid and were made properly. When I apply a new surface, you get the feel and strength of a brand new cast iron bath without the hassle of ripping it out and replacing it with an inferior bath which would cost a small fortune.